World pays tribute to US diplomat Richard Holbrooke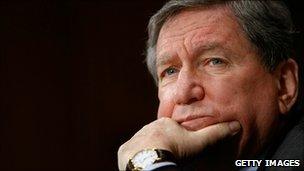 President Barack Obama has led tributes to the work of the US diplomat, Richard Holbrooke, who died following heart surgery on Monday at the age of 69.
Mr Obama called him a "true giant of American foreign policy".
Mr Holbrooke helped broker the 1995 Dayton agreement that ended the Bosnian war. More recently, he was US special envoy to Afghanistan and Pakistan.
Both Afghan President Hamid Karzai and Pakistani leader Asif Ali Zardari said they were saddened by his death.
But the Taliban said he had failed to survive the pressure of the US-led occupation of Afghanistan.
Mr Holbrooke was meeting Secretary of State Hillary Clinton in Washington on Friday morning when he collapsed.
He was taken to George Washington University Hospital, where he underwent a 21-hour operation to repair a tear in his aorta - the largest artery in the human body, which carries oxygenated blood from the heart.
Mr Holbrooke had additional surgery on Sunday and remained in a very critical condition until his death.
On Monday evening, Mr Obama told reporters: "Michelle and I are deeply saddened by the passing of Richard Holbrooke, a true giant of American foreign policy who has made America stronger, safer and more respected.
"He was a truly unique figure who will be remembered for his tireless diplomacy, love of country, and pursuit of peace."
Mr Holbrooke deserved much credit for the progress in Afghanistan and Pakistan since he became the US envoy in January 2009, he added.
Mr Karzai praised his efforts - even though his spokesman, Waheed Omar, recognised that the relationship had not always been easy.
"We had good times and we had not so good times in our dealings," he said. "But overall the president respected Richard Holbrooke for what he has achieved over a long period as a seasoned and accomplished diplomat."
The BBC's Paul Wood in Kabul says Mr Holbrooke identified corruption in the Afghan government as one of the major threats to the success of the US mission - a view that no doubt did not endear him to many local politicians.
President Zardari, meanwhile, said Pakistan had "lost a friend".
"His services will be long remembered. The best tribute to him is to reiterate our resolve to root out extremism and usher in peace," he added.
Pakistan's Foreign Minister, Shah Mehmood Qureshi, said Mr Holbrooke's sudden passing had left a "huge vacuum".
The chairman of the US Joint Chiefs of Staff, Adm Mike Mullen, said his presence would be missed later this week as the Obama administration unveils its review of US policy in the region, which he had helped write and "deeply believed in".
"I know he would want our work to continue unabated. And I know we will all feel his bully presence in the room as we do so," he added.
Nicknamed the Bulldozer for his muscular style, Mr Holbrooke once said he had no qualms about "negotiating with people who do immoral things", if it served efforts for peace.
'Legendary determination'
Some of the strongest praise for the veteran diplomat came from Europe, where he played a lead role in ending the conflict in Bosnia.
UK Prime Minister David Cameron said Mr Holbrooke's "force of personality and his negotiating skill combined to drive through the Dayton peace agreement and put a halt to the fighting" in the former Yugoslav republic.
Swedish Foreign Minister Carl Bildt, who served as an envoy to Bosnia in the early 1990s, described Mr Holbrooke as "truly a giant among diplomats of our time", and "one of the best and the brightest".
The EU's foreign policy chief, Baroness Ashton, said he was a "champion of peace and reconciliation".
Nato Secretary General Anders Fogh Rasmussen also paid tribute to his "diplomatic skills, strategic vision and legendary determination."
"He knew that history is unpredictable; that we sometimes have to defend our security by facing conflicts in distant places," he said.
Even Mr Holbrooke's main opponent in the war in Bosnia, former Bosnian Serb leader Radovan Karadzic, expressed his "sadness and regret".
Mr Karadzic, who is on trial for war crimes at The Hague, issued a statement saying he had been hoping to call him as a witness.