Florida farmers hire helicopters to keep crops warm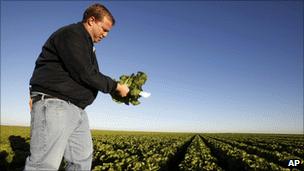 Farmers in Florida have hired helicopters to push warm air onto corn fields, in a bid to save crops from an cold snap expected this week.
Elsewhere in the lush agricultural state, strawberry growers have been spraying water onto their fruit to create a layer of protective ice.
A freeze in January damaged nearly $100m (£63m) of crops across the state.
Recent cold weather and snow storms have caused at least 14 deaths across the United States.
On Friday, Florida governor Charlie Crist declared a state of emergency because of the threat of severe crop damage.
The National Weather Service issued a freeze warning early on Tuesday morning, and orange juice futures rose to their highest level in more than three years amid fears of damage to the state's rich orange crop.
"This kind of temperature will freeze the fruit," Jimmy Tintle, an analyst at Transworld Futures in Tampa, told Bloomberg News.
In southern Florida, farmers say helicopters could help save their crops by blowing warm air from 50ft (15m) above the ground onto corn, raising the temperature and keeping them from succumbing to frost damage.
"Even if it raises the temperature a couple of degrees it may save the crops," said David Sui, a fruit and vegetable expert at the University of Florida.