Richard Holbrooke: How does death affect US strategy?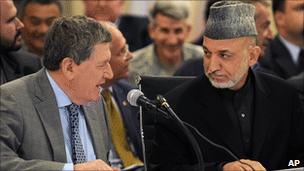 President Barack Obama said he was grateful to have had Richard Holbrooke on his team.
The president's remarks came on Monday evening, reacting to news that he had just lost one of his most formidable diplomats.
Quoting a friend and admirer, the president said in a statement released by the White House: "If you're not on the team and you're in his way, God help you."
Now that Mr Holbrooke is no longer on the team, where does that leave the strategy he helped to shape?
The downsides of his sometimes abrasive style have been much documented, including a disastrous shouting match with Afghan President Hamid Karzai, the day after the first round of Afghanistan's deeply flawed presidential elections.
"The Bulldozer", as he was nicknamed, came to be seen as too blunt and explosive for the delicate job of handling the unpredictable Afghan president.
We have Bob Woodward to thank for the information that Vice-President Joe Biden once described Mr Holbrooke as "the most egotistical bastard I've ever met."
And we have Rolling Stone magazine to thank for telling us that the former US military commander in Afghanistan, Gen Stanley McChrystal, was so fed up with messages from the president's special envoy ("Oh, not another e-mail from Holbrooke") that he stopped checking his Blackberry.
But the row with President Karzai was more than a year ago, when the Obama administration's strategy was still evolving.
One Western official who's watched the strategy evolve said Mr Holbrooke had "calmed down" since the nadir of 2009 and that in recent months the special envoy had exerted as much influence as any of the other big players in the president's team.
"This is a good phase for US policy making," he said, noting that after two years, the team is performing as well as it ever has.
As for the vice-president's remark, it's only a colourful version of what many already knew: that Mr Holbrooke's sheer force of personality was both his strength and his weakness.
Relentlessly e-mailing Gen McChrystal? The sign of someone who, in the words of one former colleague, "never gave up".
And it was the general, not the special envoy, who ended up getting the sack.
Gen McChrystal's replacement, Gen David Petraeus, of course, is another big beast. In an essay published by The Washington Post, he called Mr Holbrooke "a diplomatic titan", but also described him as "my diplomatic wingman".
He meant to flatter, but perhaps this was a telling remark. A wingman generally flies slightly behind the lead aircraft and plays a supporting role.
Few replacement candidates
Therein lies the uneasy relationship at the heart of the administration's Af-Pak strategy. Are politics and diplomacy an adjunct of the main, largely military effort, or an equal partner?
Among America's various partners in Afghanistan, the suspicion lurks that for all the talk of there being "no military solution", Washington's strategy is still too one-dimensional.
Without a forceful advocate, some worry the non-military aspects might suffer.
One Western observer, who asked not to be named, warned the military that it "would be wrong to dance metaphorically on [Holbrooke's] grave".
Much will depend on who, if anyone, Mr Obama decides to put in his place. Will he go for someone better able to manage Washington's relationship with Mr Karzai? The field isn't exactly replete with candidates, but one possibility is the former US ambassador in Kabul, Zalmay Khalilzad.
Richard Holbrooke died a few days before the administration unveils the findings of its strategy review. The White House has already warned not to expect any changes in a policy it believes is working.
The veteran diplomat helped to shape that strategy but didn't live to see it bear fruit.
There's plenty of poignancy in the air the day after his death, summed up by his reported last words to his Pakistani doctor: "You've got to stop this war in Afghanistan."