'Serial killer' deaths eyed by police in New York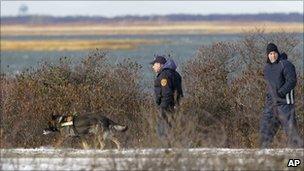 Police are investigating the possibility a serial killer may have left four bodies alongside a short stretch of road in New York state.
The bodies were discovered on Saturday and Monday in Long Island as police were looking for a 24-year-old woman reported missing on nearby Fire Island.
Shannon Gilbert, who worked as a prostitute, had arranged through a website to meet a client on the island, just east of New York City.
Ms Gilbert was last seen on 1 May 2010.
Investigators found the four badly decomposed bodies near Cedar Beach along a quarter-mile (0.5km) stretch of road, while searching for Ms Gilbert.
Suffolk County Police Commissioner Richard Dormer told reporters it looked as if the four bodies found had been thrown from a vehicle and had been decomposing over an 18-month period.
Using DNA samples and dental records, forensic experts had determined that at least two of the four bodies were female, he said.
The victims appeared to have been killed elsewhere before being dumped along the road, which separates Jones Beach State Park from smaller beaches to its east, Mr Dormer said.
He said it was not yet known if Ms Gilbert's body was among those found in the past few days.
Ms Gilbert, from Jersey City, was reportedly headed to a beach on Fire Island, about three miles from where the bodies were discovered, when she disappeared.
She had arranged to meet a client there through the classified ads website Craigslist.
Related Internet Links
The BBC is not responsible for the content of external sites.