Canada Senate calls for one-cent coin to be scrapped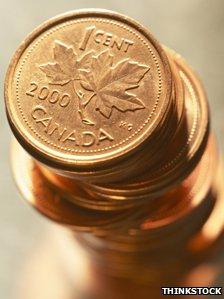 A Canadian Senate committee has urged the government to remove the one-cent coin, or penny, from circulation, saying the cost of producing it exceeds its financial value.
"The fact is that the penny is not of much use any more," the Senate Finance Committee chairman said.
There are roughly 22bn pennies in circulation, or about 600 for each Canadian citizen.
It costs Canada an estimated 1.5 cents to produce each penny coin.
The committee recommended the government stop production of the penny as soon as possible and that the coins currently in circulation be withdrawn during the next two years.
"Most of us know the penny as little more than a nuisance that slows down the line at grocery stores, and ends up under our couches or in drawers," said chairman Richard Neufeld.
A 2005 study found that getting rid of the penny would save more than C$131m (£83m; US$130m) in the cost of producing, storing and transporting the coins.
Related Internet Links
The BBC is not responsible for the content of external sites.