Abdul Kadir jailed over New York JFK airport fuel plot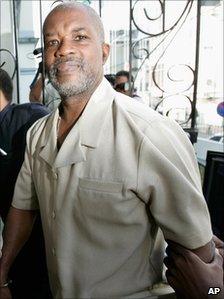 One of the two men convicted of plotting to blow up fuel tanks at New York's JFK airport has been sentenced to life in prison.
A US District Court judge said the plan involving Abdul Kadir, a former member of Guyana's parliament, would have caused "unimaginable" devastation.
The 58-year-old told the judge he had been wrongly convicted of the charges.
Kadir and Russell Defreitas, who worked at JFK, reportedly intended to kill thousands of people in the 2007 plot.
In a federal court in Brooklyn on Wednesday, US District Judge Dora Irizarry said "there can be no doubt whatsoever that the offences for which Mr Kadir was convicted are about as serious as they come, short of murder".
At the trial of the two men in August this year, prosecutors said Kadir and Defreitas had planned to use explosives to blow up fuel tanks and underground pipes that run through a nearby neighbourhood - a murderous act they thought would shake the US economy.
Prosecutors also said Kadir and Defreitas, 67, had shot video and photos of the airport, studied airport security and planned escape routes.
Prosecutors claimed the pair had sought the help of militant Muslims and at least one al-Qaeda operative in Guyana.
But the plan to blow up fuel tanks at the airport was uncovered when an informant recorded a discussion about the plot between the two men.
Defreitas was captured on the recordings, saying he had an insider's knowledge of JFK International Airport and its vulnerabilities.
Sentencing for Defreitas is scheduled for 21 January.
Another co-conspirator heard in the tape recordings, Abdel Nur, pleaded guilty to a lesser charge in the case and is awaiting sentencing.
A fourth, Kareem Ibrahim, was found too ill to stand trial.