'Underwear bomber' Abdulmutallab faces new charges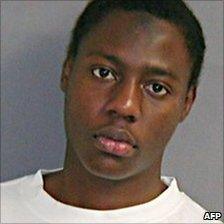 A Nigerian accused of trying to blow up an airliner with a bomb sewn into his underwear last Christmas has appeared before a US judge on new charges.
Umar Farouk Abdulmutallab was earlier indicted on two new charges of conspiracy and possessing an explosive device for a terrorism plot.
The 24-year-old, who sacked his court-appointed lawyers in September, failed to enter a plea on the new counts.
He now faces a total of eight charges and, if convicted, life in prison.
Judge Nancy Edmunds entered a not guilty plea on Mr Abdulmutallab's behalf.
Mr Abdulmutallab was previously charged with the attempted murder of 290 jet passengers on 25 December 2009 and attempting to use a weapon of mass destruction, among other counts.
On a flight to Detroit from Amsterdam, passengers overpowered the Nigerian native after he had allegedly attempted to set off the explosives concealed in his underwear.
Judge Edmunds said she would set a date for the trial at a hearing on 12 January.