US boxer Floyd Mayweather faces battery charge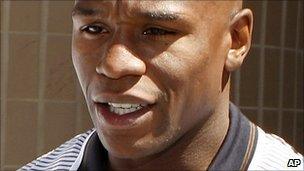 US boxer Floyd Mayweather Jr has been briefly arrested on suspicion of assaulting a security guard outside his home.
Mr Mayweather, 33, was detained at a casino in the Las Vegas area and held at the Clark County jail, police said. He was later released without bail.
He is due to appear in court on Monday charged with battery, officials say.
The charge alleges he poked a security guard in the face during a row over parking tickets on 15 November.
He faces six months in prison and a $1,000 (£645) fine if convicted.