Momin Khawaja: Canada raises terrorism sentence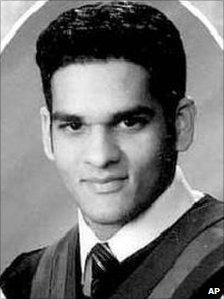 Ontario's top court has raised the sentence of a man, Momin Khawaja, convicted of participating in an al-Qaeda-inspired plot to bomb British targets in 2004.
Khawaja's sentence was increased from 10 years to life in prison.
"Terrorism must not be allowed to take root in Canada," the judgement said.
The Ontario Court of Appeal also ruled against the extradition appeals of two other men, who are wanted in the US for terrorism-related charges.
Pakistan-born Khawaja, who was the first person convicted under Canada's anti-terrorism laws, was found guilty in 2008 of charges related to financing and facilitating British extremists.
The court also dismissed extradition appeals by Piratheepan Nadarajah and Suresh Sriskandarajah on Friday, who allegedly assisted a Sri Lankan militant group by offering to purchase missiles and guns.
In a separate move, the top court increased prison sentences for Saad Khalid and Saad Gaya, who were part of the Islamist militant group dubbed the Toronto 18.
Khalid's sentence was increased from 14 to 20 years, and Gaya's prison term was lengthened from 12 to 18 years.
The court also upheld the conviction of Zakaria Amara, the leader of the Toronto 18 plot, who was seeking to appeal his life sentence.
The three men were found guilty in a 2006 plot to detonate bombs at the Toronto Stock Exchange and the Canadian Security and Intelligence Service headquarters.
The top court's decisions on Friday are being seen as a move to strengthen Canada's definition of "terrorist activity", which includes violent acts committed for a "political, religious or ideological purpose, objective or cause".