Captain Beefheart: Your memories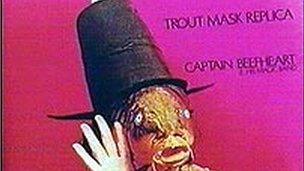 American musician and artist Don Van Vliet, who performed experimental rock under the name Captain Beefheart, has died aged 69.
He rose to fame in the 1960s with a unique style of blues-inspired rock & roll, later devoting himself to art.
People have been emailing the BBC with their memories of the artist. Here is a selection of their comments.
I went to see Captain Beefheart at Warwick University in 1976. Don and the band just played standing on the floor - level with the audience. There was lots of interaction and I danced all night. They were absolutely fabulous. Sorry to hear of Don's passing away - he's left a legacy of unique blues/rock music and I'm sure his art will be fascinating too. Lisa Bramley, Ayr, Scotland
A true colossus of the interpretation of landscape form and human emotions. A true genius and friend of nature, very sadly missed. Mike Miller, Willingham, Cambridge, UK
Beefheart - a Genius! He redefined 'rock' music and its link to the avant garde. He had a huge impact on my life - Trout Mask Replica is one of the core albums ever released. Tony Howell, Birmingham, UK
I remember around 1973 something in Sweden, a few miles outside the university town Uppsala. We were two hippie teenage boys discovering the wide range of modern music the world had to offer at that time. My friend came up with his new LP - a bloke called Captain Beefheart. I was stunned. It was not easy at all to take in. We had been digesting Frank Zappa's lyrics, Miles Davis's double LP with one long strange improvisation but this was not easy at all. Captain Beefheart takes time and effort to understand. I have so much respect for an artist who doesn't compromise, someone who care more for the art than the Fame. Per, London, UK
I met Don once, as a young aspiring musician, in 1972. He was so kind and positive. I will always remember his wonderful, multi-faceted approach to music. And the friendly way he spoke to me, after a very fun and wild concert. Don changed my ideas about music, showing me how important it is to stay open to all the possibilities the instrument, and the universe allow us. Joe Haveson, Darwin, USA
I saw him live in Manchester when I was an 18-yr-old music student in 1975. I was new to his music but easily able to appreciate what it meant for his long-standing fans to see him by the atmosphere. I can still hear in my mind's ear his growled vocals and superb harmonica playing, especially a prolonged and rapturously-received version of Gimme Dat Harp, Boy. Marion Bulmer, Hemel Hempstead, UK
I saw him play at the Free Trade Hall in Manchester in 1975. He kindly autographed the back of my ticket. During his performance, a member of the audience stood up and shouted: "This is rubbish!" The Captain stopped the band and said: "Go to the box office and I will refund your money." John, Rochdale, UK
Beefheart was a true original, gifted with that particular artistic vision that lends itself to both the visual arts and to the unlimited scope offered by musical composition. I first heard his music when I was 17, some 20 years ago and it still has the same effect on me now as it did then. There is something very zen about his approach, even though to the casual listener the music seems jumpy and cacophonous. Mr Skeats, Madison Wisconsin, US
As the Simpson's creator Matt Groening suggests, you listen to Trout Mask Replica once and you're wondering what on earth they were thinking. Twice, thrice and so on, and slowly you start to get it. After that you can probably find the beauty in any music you hear. Michael, Bedfordshire, UK
A true genius. Safe as Milk - his first album - took me on a trip that has never stopped. When I have the urge to listen to some music it's invariably Beefheart or the Grateful Dead. John Robinson, UK
I was at University of East Anglia in the mid-70s when Captain Beefheart came along and played a gig. I had my arm in plaster at the time from a football injury and he signed my plaster cast after the gig. John Dyer, Huddersfield, UK
Captain Beefheart helped me through high school. He taught me that it was alright to be different, and that I could express my individuality in a positive sense. He taught me about blues, and showed me music that has changed my life. I think today's youth could really benefit from his music, as I believe it can provide an emotional release for an apathetic generation. Yanis Khamsi, Ottawa
Captain Beefheart was one of my music heroes, along with Frank Zappa, Eric Dolphy and Miles Davis. It is a very sad day in a history of alternative music, counterculture and artistic creativity. I began listening to Beefheart's music when I still lived in Europe and was in my late 20s. But I do not consider Trout Mask Replica a masterpiece, simply because it's impossible to listen to this album from start to end. At least, I can't. I appreciate the effort, but not execution. But I really admire Safe as Milk, Clear Spot, and Shiny Beast. Mikolaj Kunicki, Notre Dame, Indiana, US