US Census 2010: Population hits 308.7m but rise slows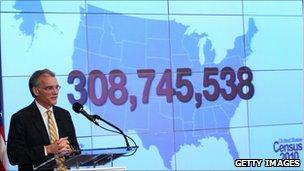 The US population has risen by almost 10% in the last 10 years to stand at 308.7 million, according to new data from the US Census Bureau.
But the population figure marked the slowest growth in a decade since the Great Depression of the 1930s.
The south and west of the country continued their population expansion.
The individual states' populations will be used to reapportion the number of representatives each state sends to the US Congress for the next 10 years.
The total population of the US grew to 308,745,538 in 2010, up from 281.4m a decade ago, Census director Robert Groves said at a news briefing announcing the 2010 results.
Roughly 60% of the increase was from individuals born inside the US, while 40% was the result of those immigrating to the country, Mr Groves said.
"In every Census since 1790, we have counted all persons who live in the country - we count residents, whether they are citizens or not," Mr Groves said.
The state with the largest population growth was Nevada at roughly 35%, while Michigan was the only state to see a decline.
Mr Groves said the slow growth during the Great Depression and the slow growth of the past decade could be attributed to each decade's economic dips.
It was "an assertion on the part of historians" that growth slowed in the 1930s because of the Great Depression, Groves said.
And "the case is pretty attractive to make that the depression hurt the growth rate", he added, referring to the most recent recession.
But Mr Groves pointed out that understanding the effect of the economy on population was a complex task and researchers might never be sure how heavily economic problems weighed on growth.
The US is still growing quickly in comparison to other developed nations, like France and England - whose populations increased by about 5% over the last decade.
The growth in population throughout the US fell largely on Republican-leaning states in the South, which will allow these regions to add seats in the House of Representatives in the next election.
The US Constitution mandates that each of the 435 House districts properly represents roughly the same number of people within each region, and the battle over redrawing of congressional districts is usually partisan and protracted.
The figures could also play a role in the 2012 White House race as the number of seats each state has in the House determines their representation in the Electoral College, which is used to elect each president.
Eight states, mostly in the Southern and Western US, will add Congressional seats during the next election, while many states in the Northeast and Midwest will suffer loses in 2012.
Related Internet Links
The BBC is not responsible for the content of external sites.