US National Guard helicopter crashes near Puerto Rico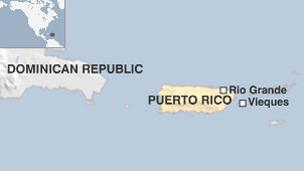 A US National Guard helicopter has crashed in the ocean near Puerto Rico, killing at least one of its six passengers, officials have said.
The group was reportedly returning from a drug raid on the island of Vieques.
Two local justice department prosecutors were on board with four National Guard officials, the US Coast Guard said.
Rescuers found the body of an unidentified victim and are searching for the others, who are feared dead.
Teams found the victim's body off the northern coast of the island near the Grand Melia resort late on Tuesday morning, said Nino Correa, search and rescue director of the Emergency Management Agency.
The helicopter apparently changed route before the crash due to poor weather, the Associated Press reported.
The group was returning from the neighbouring island of Vieques when it disappeared late on Monday night north of the coastal city of Rio Grande.
Police Chief Jose Figueroa Sancha told local radio station NotiUno the fuselage of the UH-72 helicopter had been found north of the island.
Both of the two pilots had years of flying experience, and neither one reported any problems during the flight, Mr Figueroa said.
"It is an extremely sad, difficult and painful day," he said.
"They were extremely dedicated prosecutors who went the extra mile," he added, referring to the employees of the local justice department.
The officials had been in Vieques to help serve 43 arrest warrants after a seven-month investigation into drug dealers in Vieques.
Puerto Rico is a US Caribbean territory with approximately four million residents.
Related Internet Links
The BBC is not responsible for the content of external sites.