Santa Claus tracking moves into the 21st Century
Jonathan Csapo
BBC News, Washington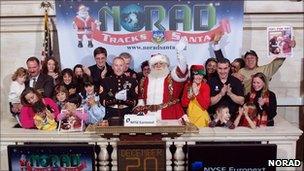 Santa Claus has finally given in and welcomed the 21st Century by going hi-tech. The jolly gift-giver is now trackable via Google Earth and reachable by telephone, e-mail, Facebook and Twitter.
His new tech-heavy lifestyle is all part of the North American Aerospace Defence Command's (Norad) annual Santa Tracker programme, now in its 55th consecutive year.
And for the second year in a row, Norad is running Santa Tracker Twitter and Facebook accounts, the latter of which claimed over 430,000 members as of Monday.
"The online aspect gets older kids and parents involved," says Elaine Naleski, the communications director for Colorado School District 11, which has worked with Norad this year.
Ms Naleski adds that using social media has helped keep the Norad tradition going within her family.
"Both my daughter and granddaughter use it," she says.
Thanks to a partnership with Google beginning in 2007, anyone can log onto Norad's dedicated Santa tracking website and follow him as he makes his way across the planet through real-time tracking on Google Earth or by phone through Google Mobile.
Thirteen million visitors from more than 230 countries and territories tracked Santa online in 2009 through Norad's website, which is available in seven separate languages.
"We certainly saw an increase in traffic last year," says Norad spokeswoman Stacey Knott, who is one of more than 1,200 Norad Santa Tracker volunteers this year.
"We're pretty pleased," she says.
To keep up with Santa, officials of Norad - a military organisation that is responsible for the aerospace and maritime defence of the US and Canada - say they employ heavy amounts of technology.
"Norad uses a combination of high-powered radar, satellites, cameras and fighter jets to track Santa," says Ms Knott.
She adds that tracking starts at Norad's headquarters in Colorado Springs at 0000 local time (0700 GMT) on Christmas Eve, when Santa leaves the Pole to begin his journey across the globe.
"We're open 26 hours on Christmas Eve," Ms Knott says.
But for all the excitement that surrounds this tradition, the origin of Norad's Santa Tracker is what most surprises people, says Ms Naleski.
The tracker started in 1955 with a local newspaper ad Sears-Roebuck placed in Colorado Springs encouraging kids to call a hotline for Santa Claus.
But the printed ad had a minor error - the telephone number was off by one digit.
Across town in a windowless building, a red phone rang.
"This is Colonel Shoup of Conad (Norad's predecessor)," a nervous voice said over the line.
Col Harry Shoup believed the call was from either the Pentagon or a four-star general - a call that would normally come in the event of a nuclear emergency.
A child asked: "Is this Santa Claus?"
Terri Van Keuren, daughter of the recently deceased Colonel Shoup, says her father immediately changed his tone after he heard the small girl's voice.
Ms Van Keuren says after the phone number in the ad was fixed, her father started Norad's Christmas tradition by calling in radio stations every year with Santa tracking updates.
"He just loved it," Ms Keuren adds, explaining that in later years, it "became his reason for living".
And in an interview given shortly before his death, Col Shoup gave a definitive answer to the biggest Christmas question of them all - how does Santa find time to visit everyone?
"That's the magic of Christmas," Mr Shoup typically told children. "And if anybody asks, you just tell them that's the magic of Christmas."