US to make 'wild' public land eligible for protection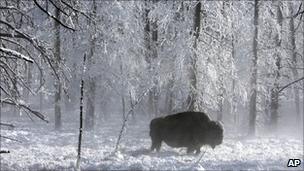 The US is to make millions of acres of public land eligible for wilderness protection, officials have said.
The order reverses former President George W Bush's policy forbidding the government from doing so.
Interior Secretary Ken Salazar on Thursday said the new policy would help to protect public land "for current and future generations to come".
In 2003, the Bush administration opened million of acres in the Rocky Mountains to potential commercial development.
Under the new policy, announced on Thursday, the US Bureau of Land Management will have the authority to designate certain public land as "wild lands" and recommend they be roped them off from future commercial development.
If an area is designated as a "wild land" through the public land management planning process, that designation can be modified later based on a new public planning process.
"Americans love the wild places where they hunt, fish, hike, and get away from it all, and they expect these lands to be protected wisely on their behalf," Mr Salazar said in a statement.
The order repeals a policy initiated by President George W Bush's interior secretary, Gale Norton, which effectively halted the Bureau of Land Management's authority to recommend new land for wilderness protection.
Environmental groups said that policy left millions of pristine acres vulnerable to oil and gas development and off-road vehicle use.