Michelle Obama aids Santa hotline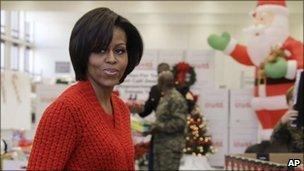 US First Lady Michelle Obama has surprised children by answering their calls to a system that tracks Santa's global gift-delivering progress.
Mrs Obama took calls to Norad's Santa hotline for about 40 minutes.
Norad, the US and Canadian aerospace and maritime defence system, says it uses its radar and satellites to track Santa.
Mrs Obama told one child caller her husband was "kind of funny - fun to hang out with".
The North American Aerospace Defence Command (Norad) has been tracking Santa since 1955.
It is believed to be the first time a first lady has taken part.
The Norad Santa Tracker has a map showing Santa's progress and a link to satellite video of his flying sleigh.
Mrs Obama helped out with the hundreds of thousands of calls to the hotline during her current 10-day holiday in Hawaii with her husband and their two daughters.
Austin Futch, 10, from Tennessee, said he asked Mrs Obama how it felt to be surrounded by Secret Service agents.
She said they were nice guys and that her husband was "a pretty good guy".
"I mean, it's a tough job and sometimes you want to do everything you can to help him, but it's pretty easy being married to him. He's kind of funny - fun to hang out with."
Mrs Obama assured callers Santa's journey "was going well this Christmas Eve".
Related Internet Links
The BBC is not responsible for the content of external sites.