US storms dent post-Christmas sales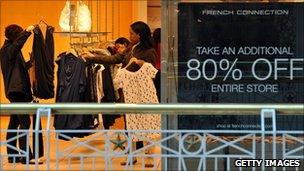 Snowstorms have deterred shoppers at post-Christmas sales in America's northeast, while retailers in the rest of the country are anticipating their highest sales in three years.
Blizzards caused shopping malls in several northeastern states to close early on Sunday, usually one of the biggest shopping days of the year.
Many shoppers also heeded warnings to stay home and off the roads.
Retail shares declined in the wake of the storms.
The Standard & Poor's Retail Index fell 0.5 percent on Monday morning, while the broader S&P 500 was down just 0.1 percent.
This news will disappoint retailers who have suffered tentative sales while the economy slowly recovers.
Mall operator Taubman Centers Inc said a number of shopping centres it operates saw light traffic on Sunday because of the storm.
Although holiday sales have risen overall, missing out on the additional boost from after-Christmas sales is difficult for retailers, especially those concerned about a lean January when consumers tighten their belts after the holiday spending season.
However, some analysts expect the storms will boost online sales.
During the week of Christmas, analysts at IBM Coremetrics reported that online spending had increased 16% over 2009. The average cost of online orders rose 13%.
Online retailer Amazon.com announced on Monday that it had record e-book sales this holiday season.
In non-storm affected areas, retail demand remained healthy after Christmas.
The country's biggest shopping centre in Minnesota, the Mall of America, expected an 8% rise in sales over last year.