Avalanche kills man on snowmobile in Canada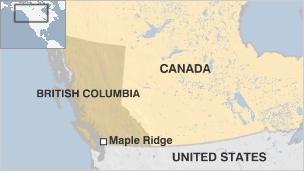 An avalanche in Canada's British Columbia province has killed a man who was out on a snowmobile expedition with relatives.
The 43-year-old man, who has not yet been named, was from Maple Ridge in British Columbia, police said.
The snowmobilers were near Coquihalla Lakes when the avalanche struck, at around noon local time on Tuesday (2000 GMT), the authorities said.
Rescue workers were expected to try to recover his body on Wednesday.
The man was swept down a mountainside by the avalanche, local media reports said. Family members found him using his GPS locator beacon but were unable to revive him.
It was the third fatal snowmobile accident in the province this week, CBC News reported.