Newark Mayor Cory Booker hits streets to shovel snow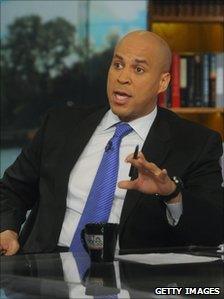 Newark Mayor Cory Booker has won wide media attention after taking snow removal operations in the blizzard-hit New Jersey city into his own hands.
He has abandoned his office for the streets, personally responding to pleas for help and being dubbed "superhero with a shovel" by some constituents.
The mayor has been chronicling his efforts on micro-blogging service Twitter since the blizzard hit.
He delivered nappies to a resident and helped a pregnant woman to hospital.
The mayor has been an active user of Twitter for several years and when the blizzard blew in on Sunday, Newark residents tweeted their calls for help to him.
Mr Booker responded to an appeal by a young woman to help her elderly grandmother who had been trapped inside, and dispatched his staff to clear streets that had not been touched days after the snow stopped falling.
After a day spent shovelling snow, Mr Booker sent a tweet at 2am: "Heading in for night. Plows & Salt trucks will work through the night & into morning. Still much work to do but I'm grateful 4 the progress."
His on-the-ground efforts have prompted plaudits on Twitter for the mayor, who is considered a rising star in the Democratic Party.
His efforts are eliciting unfavourable comparisons with New Jersey's Republican Governor Chris Christie, who has been on a family holiday at Disney World, Florida, during the blizzard clean-up.
Related Internet Links
The BBC is not responsible for the content of external sites.