Billy Taylor, US jazz musician and composer, dies at 89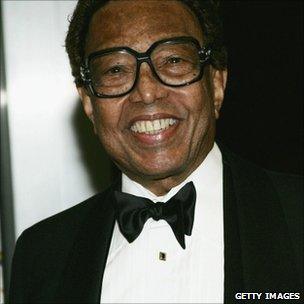 The jazz musician and composer Billy Taylor has died in New York of heart failure at the age of 89.
Taylor had been playing professionally since the 1940s, and later became a TV and radio personality, presenting several jazz programmes.
His most famous song, I Wish I Knew How It Would Feel To Be Free, became the unofficial anthem of the US civil rights movement.
Taylor was considered to be one of the most ardent advocates of jazz music.
He began his career in the 1940s in New York's jazz clubs, becoming house pianist in the legendary Birdland club, playing alongside jazz greats including Charlie Parker, Dizzy Gillespie and Miles Davis.
He later formed the Billy Taylor Trio, for which he composed hundreds of songs, including his most famous, which was later covered by Nina Simone.
Taylor believed jazz was America's classical music, and was committed to its proper teaching.
"One of the things that we have not done is to put jazz in the position that it deserves in our society," he told an interviewer in 2007.
"If you really listen to that, study that, everything you need to know about America is right there, and it's up to us who've experienced much of that to be able to share that."
Driven by this believe, Taylor set up the Jazzmobile movement in the 1960s, which promoted education through the arts and staged free concerts by high-profile jazz musicians in deprived areas of the US.
In later life, Taylor presented jazz programmes on National Public Radio in the US and was an arts correspondent for the CBS channel.
Taylor had a doctorate in music education, several honourary degrees, numerous awards including a Grammy and had served as Duke Ellington Fellow at Yale University.
He is survived by his wife, Theodora, and a daughter.
Related Internet Links
The BBC is not responsible for the content of external sites.