US aid worker Paul Waggoner freed from Haitian prison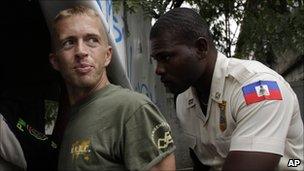 A US aid worker has been freed from a prison in Haiti after a judge declined to charge him over claims he kidnapped a baby from a hospital where he worked.
A Haitian man had accused Paul Waggoner of kidnapping his 15-month-old son in February from the Haitian Community Hospital in Petionville.
The aid worker spent 18 days in the notoriously overcrowded National Penitentiary in Port-au-Prince.
The court was shown evidence that the baby in question had died in hospital.
Mr Waggoner received medical treatment on Wednesday, according to the Materials Management Relief Corps, the aid group which Mr Waggoner co-founded after the 12 January earthquake in the country.
Supporters had previously expressed concerns Mr Waggoner could contract cholera or other illnesses in the prison, which has been widely criticised by human rights groups as providing inhumane conditions.
He was imprisoned after being arrested earlier this month.
Judge Lionel Dimanche freed Mr Waggoner after the aid worker's legal team submitted the infant's death certificate to the judge, lawyer Gary Lisade told the Associated Press news agency.
An affidavit from the American doctor who treated the 15-month-old boy in hospital was also presented to the court.
Mr Waggoner said earlier this month the infant's father had brought his son to the hospital in February and was trying to extort money from him after refusing to believe the boy had died and his body been cremated.
"It went from kidnapping to selling him to selling him into the United States for adoption to a priest saying that he was still alive," the aid worker told the CNN news network upon his release.
A justice official in Haiti said that although Mr Waggoner had been released, the investigation was still ongoing.
Related Internet Links
The BBC is not responsible for the content of external sites.