Mayor Bloomberg admits New York snow clean-up errors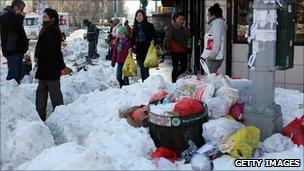 New York Mayor Michael Bloomberg admitted on Thursday the city's response to the recent blizzard was "inadequate and unacceptable".
"Clearly the response to this storm has not met our standard or the standard that New Yorkers have come to expect from us," he told reporters.
Snow was not cleared from large parts of New York for days after the storm.
America's west coast is now battling a major storm system, with freezing rain and snow in Arizona and California.
Mr Bloomberg had been defending his administration's response to the blizzard for days, as anger grew over unploughed streets and blocked footpaths.
New Yorkers appeared particularly outraged by stories of ambulances unable to come to the aid of sick residents, which led to the death of a newborn baby in one case.
At one point, 600 city buses became stuck in the snow, blocking streets, but they had all been cleared by Thursday.
Also by Thursday every New York street had been ploughed at least once.
New York's three airports were back to operating on regular schedules, but airlines warned that it would be some time before the backlog of stranded passengers has cleared.
Meanwhile, several interstate highways as well as major thoroughfares in Arizona were closed because of the dangerous weather there, while traffic was brought to a standstill in other areas.
Thousands of households in mountainous regions, which have been deluged with snow and rain, have been left without power.