Canada plans larger warnings on cigarette packs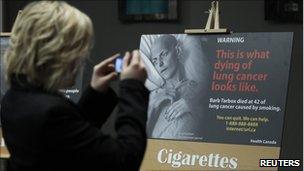 The Canadian government has introduced new rules that will force tobacco companies to place larger, more graphic warning labels on cigarette packs.
Health Minister Leona Aglukkaq said the new labels would cover three-quarters of the front and back of the packages, an increase from one-half.
They will feature warnings of tobacco-related diseases, like bladder cancer.
The new packaging will also list a telephone hotline aimed at helping those who want to quit smoking.
The federal government plans to launch a social media campaign targeting younger smokers alongside the launch of the new labels, Ms Aglukkaq said.
"Canadian and international research has shown that to be effective, health warnings must be noticeable and memorable," Ms Aglukkaq said.
One of the new labels features a photograph of former Canadian model Barb Tarbox on her deathbed.
Ms Tarbox became an anti-smoking activist before her death from lung cancer in 2003.
Canada will begin drafting legislation for the new labels in early 2011, but it is unclear precisely when the new warnings will be implemented.
The new rules are to be phased in gradually - following a transition period for tobacco companies, an official from Health Canada said.
Related Internet Links
The BBC is not responsible for the content of external sites.