Texas hostage standoff at Chase bank ends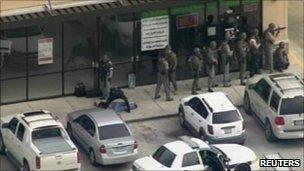 Two alleged armed robbers are in police custody after a botched heist at a Chase bank in a suburb of Houston, Texas.
The men had taken seven hostages and fired gunshots during the attempted robbery.
Five hostages were released and one suspect apprehended earlier in the day.
Local police, aided by FBI agents, had been negotiating with the suspects for four hours before the final two hostages were freed.
Police Lt Onesmio Lopez says the hostages are mostly unharmed. The robbers had struck and injured the bank manager after he had refused to open the vault.
Nearby streets in the suburb of Pearland had been sealed and businesses shut down.
The Houston Chronicle estimates that more than 50 police officers had been on the scene.
The armed robbers had entered the Chase bank at around 1130 on Friday morning.