Donald Duck 'groping' lawsuit to go to court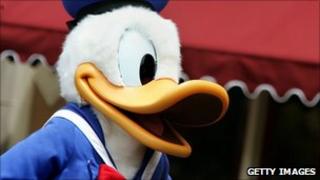 A US judge has ruled that a woman from Pennsylvania can sue Disney over claims that a staff member dressed as Donald Duck groped her at a theme park.
April Magolon, 27, says she was holding her child at Disney's Epcot theme park in Florida when the employee grabbed her breast and joked about it.
She says the alleged incident in May 2008 has left her with nightmares, digestive problems and other injuries.
Disney argued the case should be dismissed or moved to Florida.
But a federal judge in Philadelphia ruled that the company, which said Magolon had sued the wrong Disney corporate entity, must defend the lawsuit in the state of Pennsylvania.
Ms Magolon says she has suffered post-traumatic stress as a result of the alleged encounter at the Walt Disney World park.
She also alleges that there have been other groping incidents in Disney theme parks, the Associated Press news agency reports.