Man charged in deaths of victims found in Ohio tree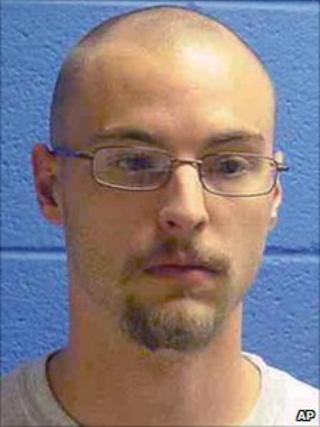 A 30-year-old man has been charged with murder, rape and kidnapping over the deaths of three people whose bodies were found inside a hollow tree in the US state of Ohio.
The indictment alleges Matthew Hoffman killed Tina Herrmann, son Kody Maynard and her friend Stephanie Sprang during a burglary on 10 November.
The victims' bodies were found cut up in a tree in a Ohio wildlife reserve.
Mr Hoffman is also accused of raping and kidnapping a 13-year-old girl.
The bodies of the victims discovered inside the tree were stabbed, cut up, placed inside rubbish bags and lowered into the hollow of a large tree in a wildlife reserve, a coroner said in November.
Information from Mr Hoffman, an unemployed tree surgeon and ex-convict who was the only suspect in the case, led investigators to the discovery of the bodies on 18 November.
He was arrested after Tina Herrmann's 13-year-old daughter was found bound and gagged in his basement.
The girl was reported missing on 10 November, along with Tina Herrmann, 32, her brother, Kody Maynard, 11, and Stephanie Sprang, 41.
If convicted, Mr Hoffman faces a possible sentence of life in prison without parole.
Mr Hoffman previously served time in prison in the state of Colorado for arson and other charges.