Shah of Iran's younger son kills himself in US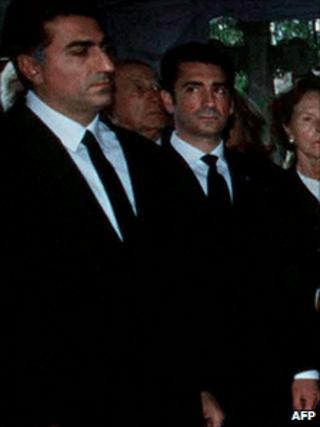 The younger son of the Shah of Iran, Alireza Pahlavi, has killed himself in the US after a long battle with depression, his family says.
His brother, former crown prince Reza Pahlavi, said the family had been thrown into "great sorrow" by the news.
"It is with immense grief that we would like to inform our compatriots of the passing away of Prince Alireza Pahlavi," a family statement said.
Shah Mohammad Reza Pahlavi was ousted in Iran's 1979 Islamic revolution.
The police in Boston said Alireza Pahlavi, 44, had died from a self-inflicted gunshot wound.
"Like millions of young Iranians, he too was deeply disturbed by all the ills fallen upon his beloved homeland, as well as carrying the burden of losing a father and a sister in his young life," the family statement read.
Alireza Pahlavi had studied philology and ancient Iranian studies at Harvard University in Massachusetts. He had also studied at Columbia University in New York.
Mahnaz Afkhami, who was minister of women's affairs in the Shah's cabinet, told the BBC World Service that it had been "traumatic" for Alireza Pahlavi when when his family was forced into exile in 1979.
Ms Afkhami said Alireza, who was 13 years old at the time, had until then experienced "near-adoration by those around him and seen the grandeur with which his father was treated".
It was shocking for the boy "to witness that his father, whom all heads of state almost unanimously had courted and admired and flattered, was suddenly a pariah," Ms Afkhami added.
She said Alireza had experienced a "loss of identity" while also being worried about developments in Iran following the end of his father's regime.
Leila Pahlavi, the late shah's daughter, died from an overdose in 2001 in a London hotel room. She was 31.
Shah Mohammad Reza Pahlavi died in Egyptian exile in 1980.