Canadian PM Stephen Harper names Kent climate minister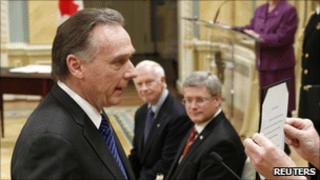 Canadian PM Stephen Harper has named Peter Kent as environment minister.
The Ontario MP will be charged in part with defending the Conservative-led government against charges it has not taken action on climate issues.
Mr Harper has said Canadian action on the environment must be tied to US efforts, and said the appointment did not signal a change in climate policy.
The move, part of a shuffle Mr Harper described as "fine tuning", comes ahead of a possible election in the spring.
While US President Barack Obama has sought to limit US carbon emissions, Republican-led opposition in Congress has stifled his efforts.
Mr Kent, a former TV journalist, replaces Jim Prentice, who left the job in November to take a position at the Canadian Imperial Bank of Commerce.
Among other cabinet changes on Tuesday, Mr Harper also appointed Ted Menzies minister of state for finance, a newly created position.
Diane Ablonczy was named the new minister of state for the Americas, replacing Mr Kent. She had been minister of state for seniors, and was replaced in that role by Julian Fantino.