John Wheeler 'seen 24 hours before body found at dump'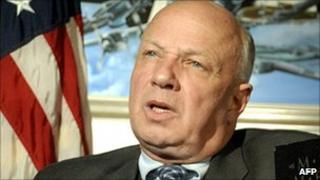 Investigators say a former US government official was seen alive less than 24 hours before his body was found at a dump in Delaware.
Police said John Wheeler, 66, had been spotted in downtown Wilmington, but did not say what he was doing there.
Mr Wheeler's body was found on Friday at a rubbish dump. Police say he was killed but have not released details.
Mr Wheeler, a Vietnam veteran, served in the administrations of ex-Presidents George Bush Senior and Ronald Reagan.
He was involved in fundraising efforts for the Vietnam War memorial on the capital's National Mall, as chairman of the Vietnam Veterans Memorial Fund.
The intersection where Mr Wheeler was last seen is about six blocks from the offices of an attorney who was representing him and his wife in a property dispute.
Police have not indicated that the property dispute had anything to do with the death.
Mr Wheeler's body was spotted falling from a rubbish truck as it emptied its load at Delaware's Cherry Island landfill site.
Investigators are studying video surveillance tapes from along the truck's route through the town of Newark, police said.