Guard 'cleaned up' after Michael Jackson drug death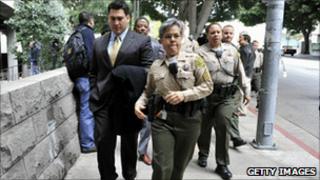 A bodyguard to Michael Jackson has testified the singer's doctor ordered him to clean up medical paraphernalia in the moments after he died.
And a paramedic said Dr Conrad Murray did not mention he had given Jackson propofol, an anaesthetic found to have caused the singer's death.
The testimony came at a preliminary hearing for Dr Murray, who has pleaded not guilty to involuntary manslaughter.
Prosecutors say his negligence led to Jackson's death aged 50 in June 2009.
At the preliminary hearing in a Los Angeles courtroom, a judge is to decide whether prosecutors have enough evidence to try Dr Murray, a cardiologist. It is expected to last several days.
Dr Murray faces up to four years in prison if convicted.
Prosecutors contend Dr Murray's treatment of the singer - including administering several doses of sedatives and a dose of propofol in the hours before he died - deviated from medical practice sufficiently to constitute a crime.
They also say Dr Murray improperly concealed his use of propofol, a surgical anaesthetic typically used in a clinical setting.
'What happened?'
On Wednesday, bodyguard Alberto Alvarez testified that Dr Murray had summoned him to the singer's bedroom, telling him something had gone wrong and ordering him to clean up medicine vials and intravenous bags, then afterward to call paramedics.
Mr Alvarez said Jackson lay on the bed, his eyes and mouth open, connected to an IV tube and a urinary catheter.
"I said, 'Dr Murray, what happened?' And he said, 'He had a reaction. He had a bad reaction,"' Mr Alvarez recalled.
Also on Wednesday, paramedic Richard Senneff said Dr Murray did not mention he had administered propofol, but said he was treating the singer for dehydration.
He said Jackson had looked so pale and gaunt he mistook him for a hospice patient, and did not initially recognise him as the world famous pop music star.
The Los Angeles County coroner's office has ruled the singer died from an overdose of the surgical anaesthetic propofol, found in his body along with a cocktail of other sedatives.