Robert Butler used father's gun in Omaha school attack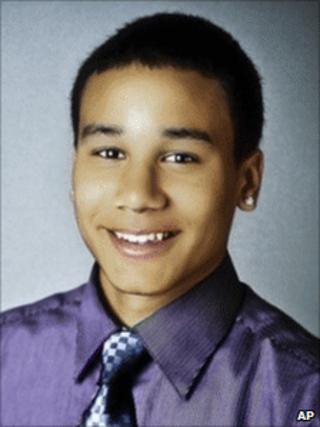 A US student who shot two school officials, killing one, had been suspended for 19 days just before the attack, officials have said.
Robert Butler, who killed himself after the attack at his Nebraska school, had just been punished for driving over the school football pitch.
Police said the gun he used belonged to his father, an Omaha police detective.
No other students were injured in the attack. The school principal is in hospital and is expected to survive.
Robert, 17, had recently transferred to Millard South High School in Omaha from Lincoln, another city where he had lived with his mother, the Omaha World-Herald reported.
The newspaper reported that over the winter holidays Robert had been penalised by police for driving his car over the school football pitch and athletics track, and on the Wednesday morning before the attack was suspended from school by Vice Principal Vicki Kaspar.
He went home, took a gun belonging to his father while his father was out of the house, and returned to school.
After speaking to Ms Kaspar for several minutes with the door closed, he reportedly shot her several times in the chest, then shot Principal Curtis Case and fired more rounds.
He fled and was later found dead of a self-inflicted gunshot wound in his still-running car, police told local media.
'Panic'
Ms Kaspar, 58, later died in hospital; Mr Case, 45, was in serious condition in hospital.
On a Facebook page, Butler apparently ranted that people would hear about "evil" things he had done and said the school had driven him to violence.
Marissa Barton, who attends a school near Millard South, said her school was locked down and that students had gone into a panic after the shooting.
"There is a sombre feeling throughout the city," she told the BBC. "This tragedy has hit the entire community hard. I'm still in shock."