Arizona shooting: Your stories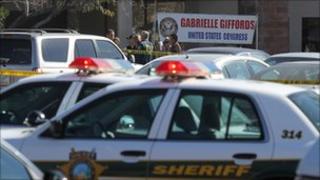 US congresswoman Gabrielle Giffords is in critical condition after a gunman shot her in the head and killed six people in Arizona.
The Democratic representative was shot at close range at a public meeting in a Tucson supermarket.
BBC News website readers who were in the area at the time have been getting in touch.
Richard Hartshorne
We took our cameras out yesterday expecting to photograph Tucson's typical natural beauty on a beautiful day.
We could have easily been at this event while it happened, but I was delayed by a phone call, and we were a bit late out the door.
I planned to go to the bank at Ina and Oracle. We got to it but the police turned everyone onto side streets or around.
The shopping centre where it happened is in a very nice area. There are nice stores and you wouldn't think it was dangerous.
There were hundreds of law personnel - FBI, state troopers, medical response.
I still haven't taken in what happened. Congresswoman Giffords was well-liked and popular enough to get re-elected.
We are not used to events like that here. It was such a beautiful day, such a contrast to what happened.
Claudette Gazic
I'm just a 10-minute drive away from where it all happened.
My family and I were on Oracle and were just 50 feet from the gunshots.
We were on the road when the first responders came past.
Somehow, we could tell it wasn't a car accident, but something bigger - police officers were riding the wrong way on the road.
We thought maybe it was a bank robbery as there have been a number of bank robberies in the area.
But then we saw people running out and hugging people on the side of the road.
We saw three helicopters landing on the road and gurneys were loaded on them.
I am devastated by what has happened. I have voted for Congresswoman Giffords and she has done a lot for our community.
Marty Johnston
I went to Ms Giffords' office shortly after the news that she had been shot.
After some initial arguments, when some individuals blamed the tragedy on others' political parties, we Americans put aside our differences to join hands and pray for her recovery.
I wish all of those in the world that hate America for our "decadence" could have been there, watching as people of varied faiths and backgrounds prayed for our fellow American.