Band of Brothers' Maj Richard Winters dies aged 92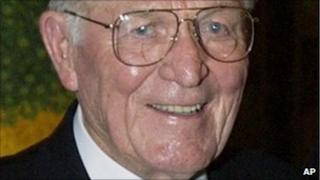 Maj Richard Winters, whose WWII heroism was captured in the TV mini-series Band of Brothers, has died at the age of 92.
Maj Winters' death was confirmed by a family friend, and followed a long battle with Parkinson's disease.
The 2001 HBO/BBC series charted the exploits of a company of US paratroopers from the Normandy invasion to the end of World War II.
Maj Winters, of Hershey, Pennsylvania, had asked that news of his death be withheld until after his funeral.
An HBO spokesman said Maj Winters died on 2 January.
Born in 1918, Maj Winters studied economics before enlisting in the US army.
He rose to become the commanding officer of Easy Company, 506th Parachute Infantry Regiment, 101st Airborne Division on D-Day.
He was decorated for leading a 13-man attack on a fortified German gun placement, which had been shelling US soldiers landing on Utah Beach.
Maj Winters also led his men in the ill-fated British-led Operation Market Garden, to try to capture bridges over the Rhine river in the eastern Netherlands.
He also played a leading role in the Battle of the Bulge, when a breakout by German forces saw the Allies besieged in the Belgian town of Bastogne.
Among those paying tribute were some of the men of Easy Company portrayed in Band of Brothers.
Bill Guarnere, 88, said Maj Winters was a great leader, who was "right in the front".
Eighty-seven-year-old Edward Heffron, known as Babe, said: "He was one hell of a guy, one of the greatest soldiers I was ever under."
BBC News website readers have been sending in their tributes to Maj Richard Winters.
I was with the 36th Texas Infantry Division US Army and knew Dick Winters post-war, in Normandy, having both served in the infantry. We spent four days together, and I have a book inscribed by him, which ends, "Hang Tough, Dick". I shall miss him, a terrific tactical combat leader. Dr Steve Weiss, London
Major Winters' selfless actions on and off the battlefield serve to show the greatness of the individual. From storming the gun position to attending the welfare of his men; the task and his men always took priority before his own needs. Don't forget it was these men and women that allow us the freedom we enjoy and take for granted. Rob Evans, Huntingdon, Cambridgeshire
Men like this are the real history-makers, whose stories are seldom told. An inspirational man from a different generation - it is people like him that make America what it is, the people of America should be proud of great leaders like him and the many others that go unrecognised. He will be sadly missed I'm sure but he will no doubt be lining up with the rest of his fallen brothers. Thank you for everything you have done in the name of freedom and peace. James O'Fee, Whitehaven, Cumbria
Major Dick Winters was a true inspiration. I emailed him and conversed with him through a US army sergeant that took care of his mail. I am an ex-British soldier, who has experienced combat first-hand, but the bravery shown at Brecourt Manor and at the battle of the bulge was way over anything that I encountered. Being in combat shows you the importance of having a great leader, ready to make decisions, lead from the front and ensure the welfare of his men. This great man no doubt saved the lives of many US servicemen and it is a crime that he was never given the Medal of Honor. Mark Ardron, Southend on Sea
Farewell to an exceptional communicator and advocate of peace. Dave Evans, Bristol
Although I was never lucky enough to meet Maj Winters, his story and those of his company have touched me greatly - enough that I have a large tattoo on my back in their honour. While Maj Winters of course lived a very long life, I found it quite devastating to hear of his passing. I'd rather hoped he would be here forever. Rosie, Brighton
Band of Brothers should be essential viewing for every trainee officer. Dick Winters was an example of how military officers should behave. He was an exceptional man and the world is a lesser place for his passing. Howard, Aberdeen
The US government should now look at his action again and award the Medal of Honor to him posthumously. Also upgrade all the awards given to his men for the destruction of the German Battery at Normandy. Michael H Johnwson Senior (US Army retired), Fullerton, California, US