Dr Kermit Gosnell 'killed babies' at abortion clinic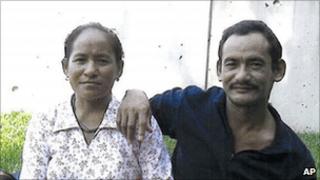 A Philadelphia doctor performed thousands of illegal late-term abortions and murdered newborns after inducing labour, prosecutors have said.
Dr Kermit Gosnell, 69, was charged with murder and other offences in the deaths of a patient and viable babies born as late as the eighth month of pregnancy.
Prosecutors said he made millions of dollars treating and sometimes maiming mostly poor minority women.
Nine clinic workers are also charged with murder and other counts.
The defendants have not yet responded to the charges.
Lawyer William Brennan, who represented Dr Gosnell during the investigation, said: "Obviously, these allegations are very, very serious."
'Baby charnel house'
"I am aware that abortion is a hot-button topic," District Attorney Seth Williams said in a statement.
"A doctor who knowingly and systematically mistreats female patients, to the point that one of them dies in his so-called care, commits murder under the law.
"A doctor who cuts into the necks severing the spinal cords of living, breathing babies, who would survive with proper medical attention, is committing murder under the law."
At the Women's Medical Society, a clinic described as a squalid "baby charnel house", Dr Gosnell employed untrained, unlicensed workers who performed abortions, administered dangerous drugs and wrote prescriptions, the grand jury wrote in a report obtained by the BBC.
Medical equipment was outdated, not functioning or in poor condition, and the remains of 45 foetuses were found stored throughout the clinic - in bags, milk and juice containers, refrigerators and freezers, the grand jury wrote.
The grand jury said Dr Gosnell and his staff had speeded women through the abortion process, skirting strict state regulations including rules about teenage patients.
Sedative overdose
Performing abortions well past the state's statutory cut-off of 24 weeks, his clinic would induce labour, then killed the babies, the grand jury said in its report.
Prosecutors estimate Dr Gosnell and his unlicensed aides killed hundreds of babies in that manner.
"People knew near and far that if you needed a late-term abortion you could go see Dr Gosnell," Mr Williams said.
Dr Gosnell also maimed women under his care, prosecutors said, during efforts to extract foetuses. The grand jury described cases in which he would send women home with parts of aborted foetuses still inside them, with the women later suffering dangerous infection.
He also risked their lives by allowing his staff to administer dangerous sedatives without proper training or licences.
He is charged with murder in the death of a 41-year-old Nepalese immigrant named Karnamaya Mongar, who overdosed on repeated injections of an outdated sedative.
Mr Williams said regulators received a number of complaints against the Women's Medical Society but none provoked an investigation.
Dr Gosnell and clinic workers were ultimately arrested when law enforcement officers raided the clinic seeking evidence of illegal prescription selling.