Obama says Egypt is 'making progress' in negotiations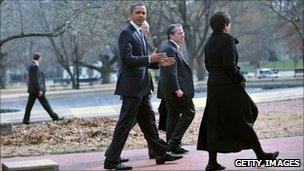 US President Barack Obama has said he believes there has been progress in Egypt, one day after Egyptian Vice President Omar Suleiman met with opposition groups in the country.
"Obviously, Egypt has to negotiate a path and they're making progress," he said after a speech at the US Chamber of Commerce.
Meanwhile, Egyptian demonstrators vowed to continue their campaign in Cairo.
Cairo's Tahrir Square is still being occupied by protesters.
The BBC's North America editor Mark Mardell says the Obama administration is still watching to see if the Egyptian government is serious about change.
On Sunday, Mr Suleiman, a potential successor to President Hosni Mubarak, invited several opposition groups, including the Muslim Brotherhood, to a panel on democratic reform in an effort to soften the anti-government revolt.
The groups, which have repeatedly called for Mr Mubarak to stand down or hand over his powers to Mr Suleiman, said their core demands had not been met during the talks.
Mr Mubarak has refused calls to end his 30-year presidency before elections in September, saying his resignation could cause chaos.
Protesters have said they will only scale down their efforts when the 80-year-old leader resigns.
A new Gallup poll released on Monday suggested that 82% of Americans feel sympathetic toward protesters in Egypt, who have called for a change in government.
The Obama administration has previously said efforts to force Mr Mubarak's resignation could trigger elections before opposition groups were fully ready to participate.
US Secretary of State Hillary Clinton said on Sunday the protests in Egypt should not hurt US efforts to restart peace talks between the Israelis and Palestinians.
Egypt, which was the first country to sign a peace deal with Israel, controls the Suez Canal, a vital trade link. The canal earned Egypt $4.77bn (£2.9bn) in 2010 and currently remains open.
Banks in Cairo reopened on Monday, while schools and the stock exchange remained closed.
On Monday morning, crowds of protesters on Tahrir Square formed a human chain around a major government building - where people go to get official paperwork processed - to prevent it from opening as normal.
Meanwhile, the Egyptian government is selling $2.5bn (£1.55bn) in short-term debt, after having cancelled auctions last week. It is seeking to revive an economy said to be losing at least $310m a day while the protests continue.
As the crisis enters its third week, ordinary people are worried that prices for ordinary goods like bread have risen sharply, and show no signs of coming back down.