'No electronic link' to Toyota acceleration complaints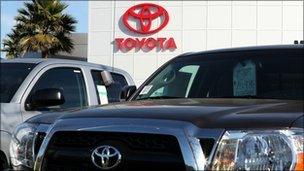 A US investigation into Toyota safety problems has found no electronic flaws to explain complaints about unintended acceleration.
The 10-month probe, ordered by the US Congress, followed recalls of millions of Toyota vehicles in 2009 and 2010.
Part of the investigation, published in August, suggested driver error might have played a part in many incidents.
Toyota, the world's biggest carmaker, reported a 39% drop in quarterly profits on Tuesday.
The company recalled more than 12 million vehicles globally in 2009 and 2010 for various problems including faulty floor mats, sticky accelerator pedals, braking software glitches and steering malfunctions.
Questions had been raised over whether software-driven throttles had played a role in unintended acceleration complaints.
But US Transportation Secretary Ray LaHood said in a statement on Tuesday: "There is no electronic-based cause for unintended high-speed acceleration in Toyotas."
Mechanical flaws that were fixed in previous recalls appeared to be behind the problems with unintended acceleration, US officials said.
"We feel that Toyota vehicles are safe to drive," Mr LaHood stated.
Mr LaHood said the US transportation department had been assisted by engineers from US space agency Nasa in its investigation into the recalls.
Nasa "rigorously examined" nine Toyotas driven by consumers who complained of unintended acceleration and reviewed 280,000 lines of software code to look for flaws that could have caused the acceleration, Mr LaHood said.
Engineers also used electro-magnetic radiation to test whether they could force the cars' electronics to speed the vehicles up.
Despite the investigation's findings, Mr LaHood said the National Highway Traffic Safety Administration was considering new regulations to improve safety.
The new measures could require brake override systems, standardising keyless ignitions and requiring event data recorders, known as black boxes, to be fitted on all new vehicles.
Officials said they would also continue to carry out research on electronic control systems and a review of the placement of accelerator and brake pedals.
Toyota paid the US government a reported $48.8m (£30.3m) in fines over the handling of the recalls.
Sales of Toyota vehicles continue to rise in Asia, Africa and South America.
Related Internet Links
The BBC is not responsible for the content of external sites.