'US teenagers' killed in Mexican border city shooting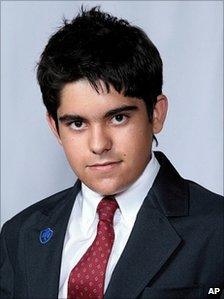 Three teenage boys, at least two of whom are believed to have been US citizens, were shot and killed in the Mexican border city of Ciudad Juarez, authorities have said.
The three were killed on Saturday at a car dealership across from the Texas city of El Paso, where they were looking at cars, officials said.
Police recovered an AK-47 at the scene, a gun often used by drug traffickers.
There are no leads in the case, said Mexican spokesman Arturo Sandoval.
One victim was found inside a vehicle, while the bodies of the two other teenagers were found in the dealership's courtyard.
At least 60 bullet casings were also found at the scene, said Mr Sandoval, a prosecutors' spokesman in the northern Mexican state of Chihuahua.
Ciudad Juarez, which has roughly 1.3 million residents, has become one of the world's most dangerous cities due to an ongoing war between drug cartels in the region. The city saw more than 3,000 murders last year.
One of the boys, Carlos Mario Gonzalez Bermudez, 16, was a second-year pupil at Cathedral High School in El Paso, the school's principal, Nick Gonzalez, told the Associated Press news agency.
A second victim, Juan Carlos Echeverri, 15, was a first-year at a Catholic high school last year but had left to study in Ciudad Juarez, Mr Gonzalez said.
Mr Gonzalez said both students were US citizens.
Cesar Yalin Miramontes Jimenez, 17, was identified as the third victim, according to Mr Sandoval.
The US Embassy in Mexico City said it could provide no immediate information on the students or the incident.
A prayer service was held on Monday at Cathedral High School and officials are planning a second service later in the week for the teenagers, Mr Gonzalez said.
"It's a lot of pain, a lot of sorrow, a lot of tears, a lot of coming together as a community to try to hold each other up and to try and make sense today," the school principal said.
"Our Juarez kids knew all three" of the victims, he added.
Mr Gonzalez said Mr Gonzalez Bermudez lived in Ciudad Juarez and that 20% of the 485 pupils enrolled in his school are from the Mexican city.
Related Internet Links
The BBC is not responsible for the content of external sites.