Zuckerberg gets restraining order over Facebook 'pest'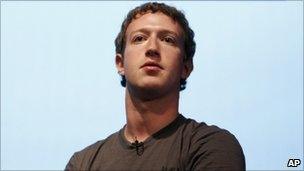 Facebook founder Mark Zuckerberg has obtained a restraining order against a man who was reportedly attempting to contact him using threatening language.
Pradeep Manukonda, 31, has been ordered to stay at least 300 yards (274m) away from Mr Zuckerberg, his girlfriend and his sister.
Mr Manukonda has shown up at several Facebook offices and Mr Zuckerberg's home to ask for money, media reported.
He told Mr Zuckerberg he needed cash to fund his mother's medical treatment.
The request for the temporary restraining order was reportedly filed on the basis that Mr Manukonda attempted to "follow, surveil and contact Mr Zuckerberg using language threatening his personal safety".
A Facebook spokeswoman confirmed to the BBC that a restraining order had been issued on Mr Zuckerberg's behalf but would not comment further.
Police issued a verbal warning to Mr Manukonda in late January, but he had repeatedly attempted to contact Mr Zuckerberg through messages sent both on Facebook and by post.
In a January note to Mr Zuckerberg obtained by US celebrity news website TMZ.com, Mr Manukonda, who describes himself as a software engineer, pleads for financial assistance.
"I beg you for my mother [sic] life, please spare two minutes of your valuable time in order to explain her condition," he wrote.
He continued: "I am sorry for approaching you directly. I swear on my daughter I have no harmful intentions or get associated with your name."
In another note, Mr Manukonda addresses Mr Zuckerberg as "my lord" and apologises for any inconvenience.
Related Internet Links
The BBC is not responsible for the content of external sites.