Oil tycoon grandson John Paul Getty III dies aged 54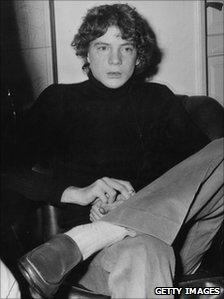 John Paul Getty III, the grandson of a billionaire American oil tycoon, has died at the age of 54.
Getty died on Saturday at his mansion in Buckinghamshire, UK, his son Balthazar confirmed on Tuesday.
He famously had his ear cut off by a gang of criminals who held him hostage in Italy for five months in 1973.
Eight years later, a drug overdose triggered a near-fatal stroke that left him a quadriplegic, virtually blind and in a wheelchair.
The cause of his death has not yet been disclosed.
Getty was born in 1956 into vast wealth as the eldest son of Sir John Paul Getty II and the grandson of John Paul Getty, once the richest man in the world.
When he was 16, he was kidnapped in Rome by a gang, who sent a ransom note demanding millions of dollars for his safe return.
John Paul Getty refused to help pay the ransom, believing it would endanger his other grandchildren. But he paid the kidnappers $2.7m five months later after they cut off the boy's ear and sent it in an envelope to a newspaper.
Tragedy struck again in 1981, when John Paul Getty III took a drugs overdose and had a stroke which left him paralysed, with only peripheral vision and severe communication problems.
From then on, he used a wheelchair and had to be looked after by his mother, Gail, and a team of carers.
His relationship with his father broke down after he refused to pay the medical bills. A judge in Los Angeles, however, subsequently ordered his father to contribute.
Their estrangement eventually ended, but in 2003 Sir John Paul Getty II left the bulk of his £200m fortune to his second son Mark.
John Paul Getty III, a father of two and grandfather of six, "never let his handicap keep him from living life to the fullest and he was an inspiration to all of us, showing us how to stand up to all adversity", Balthazar Getty, an actor, said in a statement. "We will miss him terribly."