Tuition fee rise 'forcing parents to save more'
By Simon Gompertz
Personal finance correspondent, BBC News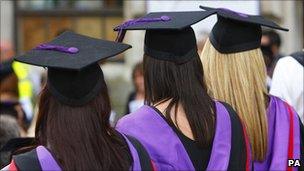 The prospect of university fees rising to £9,000 a year is prompting parents to save more for their children's education, research suggests.
The rise - to apply from September 2012 - is the main factor behind a rise in savings in recent months, said ING Direct, which questioned 1,300 adults.
It said 23% of parents were saving more or setting up university accounts.
And one in 10 parents and children was having second thoughts about going to university, it added.
Ministers have decided that the standard level for tuition fees will be £6,000, up from the current level of £3,290. But universities will be able to charge up to £9,000 if they fulfil certain conditions.
Student loans will continue to be available to cover both the fees and day-to-day maintenance. But many parents try to reduce the debt burden by covering some of the cost.
"It feels absolutely impossible. I mean we don't have that much surplus income," says Sarah Marten, a mother of two from London.
"Interest rates are really low as well. And when you put those things together and you look at how much you can save, it's going to be a really small amount."
It is a particular worry for Sarah, whose daughter is just three years away from leaving school. She was putting away enough to pay both children's fees at current rates. But £9,000 would be too big a step.
Even so, ING Direct reports that significant numbers of parents are already salting away extra money.
In new research, 10% say they started saving more after hearing about the tuition fee hike next year. An additional 13% have set up special university accounts.
The evidence comes from a sample of 1,300 adults, including 300 who do not save at all.
Mandy Sharp has a five-year-old daughter, Jaime, and that gives her more time to save.
She has started putting £100 a month into a tax free Individual Savings Account for Jaime's education. She plans to save additional lump sums when she can.
"It's hugely daunting. It's huge amounts and I don't want her to have those big debts when she comes out of university. I'm not saying I'll be able to cover the whole cost but if I can help her as much as I can, then I'd like to do that."
Phil Davis from the National Association of Student Money Advisers warns that parents should think very carefully before setting aside money exclusively for university education, as it could mean cutting back unnecessarily.
"It's crucial that parents don't seek to reduce their standard of living," he says.
"The government has assured us that the funding will be there. That will even include grants for students with lower income backgrounds. And, depending on the career that the graduate moves into, they may find that they don't have to pay all of the money back."
Graduates will not have to start making repayments until they are earning more than £21,000 a year.
Parents wanting to pay three years of tuition fees at £9,000 would need to save £93 a month from birth in a tax-free cash ISA, according to the financial website, Moneyfacts.
If they haven't started yet and the child has reached 10 years of age, they would need to set aside £249 a month from now on.
Family Investments, a mutual society, claims that parents might make a better return by choosing an investment plan which includes shares. It suggests £82 a month from birth could be enough, assuming an annual return of 6%.
The evidence from ING Direct implies that more parents are becoming alarmed at the prospect of a hike in fees. But few will be able to protect their children from taking on some student loans.
Full details about the loans on offer in 2012 have not yet been finalised, but it appears that some students could end up with £40,000 of debt.
Related Internet Links
The BBC is not responsible for the content of external sites.