Air India bomber appeals against perjury conviction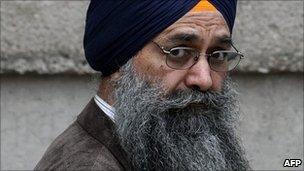 The only man convicted over the bombing of an Air India jet has appealed against a perjury conviction in his alleged accomplices' trial in Canada.
Inderjit Singh Reyat was sentenced to nine years for lying at the trial of the two men, which ended in 2005, over the 1985 attack that killed 329 people.
He had already spent most of the past 22 years in prison for his role in that and another deadly bombing.
Reyat's alleged accomplices, accused of being Sikh separatists, were acquitted.
Air India flight 182 from Canada to India blew up off the Irish coast, killing all 329 people on board - most of them Canadian citizens visiting relatives in India - on 23 June 1985.
Around the same time, a second bomb exploded prematurely in Japan, killing two baggage handlers.
Canada's deadliest attack
The bombings - widely believed to have been carried out by Canadian-based Sikhs in retaliation for India's deadly 1984 storming of the Golden Temple, the holiest shrine in the Sikh religion - remain Canada's deadliest terror attack.
Reyat, an Indian-born electrician with British and Canadian citizenship, was extradited from the UK to Canada in 1989 and jailed pending trial.
In 1991 he was found guilty in Vancouver of manslaughter and explosives charges in connection with the bomb that exploded in Japan, and sentenced to 10 years in prison.
Separately, he pleaded guilty in 2003 to manslaughter in connection with the Air India bombing and was sentenced to five years in prison in Canada.
In 2005, two Canadian Sikhs, Ripudaman Singh Malik and Ajaib Singh Bagri, were acquitted after a lengthy trial on all counts in connection with the bombing, with the judge citing witnesses' lack of credibility and a lack of evidence.
Reyat was charged in 2006 with perjury for his testimony under oath in that trial, given in 2003, and had been out of prison on bail since 2008 before he was sentenced last month.
Filing his appeal against that sentence, Reyat said the prison sentence was "harsh and excessive" and that the judge had made errors and misdirected the jury, the CBC reported.
According to court documents, his lawyer has asked for a new trial.