House rejects extension of 'Patriot Act' powers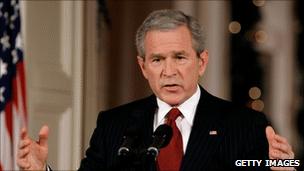 The US House of Representatives has blocked a bill to extend some surveillance powers granted by the 2001 Patriot Act after the 9/11 attacks.
The bill was opposed by most Democrats and some Republicans, and failed to win the two-thirds vote needed for passage.
It would have extended until December provisions on wiretaps, access to business records and surveillance of terror suspects granted by the law.
The White House backed the bill but said it favoured a longer extension.
In the 277-148 vote, 26 Republicans joined Democrats in opposing the bill, and 67 Democrats voted in favour. The bill had the support of the Republican leadership.
The bill fell seven votes short under expedited rules requiring a two-thirds super-majority, but could still pass under normal procedural rules, in which case it would need only a simple majority for passage.
The Patriot Act was shepherded through Congress by President George Bush shortly after the terror attacks of 11 September, 2001.
Mr Bush and other supporters argued that the legal safeguards traditionally granted to criminal suspects left the US ill-protected against further attacks.
Critics say the broad powers the act grants US law enforcement agencies violate Americans' privacy, and on Tuesday the American Civil Liberties Union applauded the bill's rejection.
"The House should be commended for refusing to rubber stamp the continuation of these provisions," Laura Murphy, director of the group's legislative office, said in a statement.
"For the nearly 10 years it has been law, the over-reaching Patriot Act has been abused by law enforcement to violate innocent Americans' privacy."
The provisions set to expire give the US government the authority for "roving surveillance" of suspects who might be able to thwart investigative methods that ordinarily require a judge's warrant.
They also give federal investigators access to business records with a warrant from a secret national security court and grant federal law enforcement greater power to watch foreign so-called "lone wolf" terror suspects.
At it stands, those provisions are set to expire at the end of this month.
Ahead of the vote, the White House said it supported the House bill but would prefer the provisions to be extended until December 2013.
"This approach would ensure appropriate congressional oversight by maintaining a sunset, but the longer duration provides the necessary certainty and predictability that our nation's intelligence and law enforcement agencies require," the White House said in a statement.
Related Internet Links
The BBC is not responsible for the content of external sites.