Gabrielle Giffords speaks and asks for toast, aide says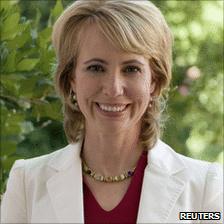 The US congresswoman shot in the head in an Arizona attack has recovered enough to speak, asking for toast for breakfast, an aide has told US media.
Gabrielle Giffords' chief of staff wrote in an email that Ms Giffords made the verbal request on Monday when staff at the Houston hospital where she is being treated brought her a meal.
Six people were killed in the attack and several others were wounded.
Jared Loughner, 22, is currently jailed pending trial for the shootings.
On his Facebook page, Ms Giffords' husband Mark Kelly said Ms Giffords' appetite had returned and that she had been eating three meals a day, "even though it's hospital food".
"It is hard to believe that only one month has passed since Gabrielle was shot," he wrote. "The doctors say she is recovering at lightning speed considering her injury but they aren't kidding when they say this is a marathon process."
Mr Kelly, an astronaut, has resumed training as commander for the final flight of the space shuttle Endeavour, scheduled for April.
He had withdrawn from the training programme when his wife was shot at a constituency meeting in Tucson, Arizona in January.