'Buttocks injection' death: Police quiz woman in US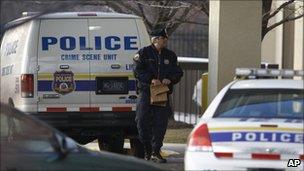 US police investigating the death of a woman who received a cosmetic injection in her buttocks in a hotel room have questioned a woman believed to be linked to the procedure.
Claudia Seye Aderotimi, 20, who had travelled from London, died in hospital in Pennsylvania on Tuesday after an injection of silicone, officials said.
Police executed a search warrant on Tuesday at the home of a woman believed to have set up the appointment online.
No arrests have been made in the case.
Ms Aderotimi, who had been named as Claudia Adusei in earlier media reports, was identified by the Delaware County medical examiner.
The London resident was pronounced dead early on Tuesday after suffering from chest pains and breathing trouble.
Ms Aderotimi's cause of death is listed as undetermined, pending further studies.
The British embassy in Washington said Ms Aderotimi was not a British citizen. She had been living in Hackney, London.
Detectives said the liquid silicone injection, thought to have been arranged over the internet, took place at a hotel near Philadelphia International Airport.
The woman questioned by police was not placed under arrest, Lt Ray Evers said.
Ms Aderotimi and three companions were staying at a Hampton Inn hotel near the airport after travelling from London, police said.
Ms Aderotimi reportedly had the buttocks injection on Monday and a companion had a hip augmentation.
Investigators are now pursuing a second woman who is believed to have performed the procedure, Lt Evers said.
Silicone is used as a permanent filler in the body and is intended to create a rounded shape. Liquid silicone is not approved in the US for cosmetic injections and is banned in a host of other countries.
Experts say a growing number of young women are seeking out procedures to enhance the shape of their buttocks.
"Bottom augmentation is becoming more popular and originated in South America, in places like Brazil," said Paul Harris, plastic surgery consultant at the Royal Marsden hospital in London.
Mr Harris added that though bottom augmentation procedures were becoming increasingly popular with women in the UK, liquid silicone injections were not practiced because of the risks associated with them.
In March 2009, a woman in New York City died of a pulmonary embolism when silicone injected into her buttocks and thighs entered her lungs.