Daniel Boyd pleads guilty to US terrorism charges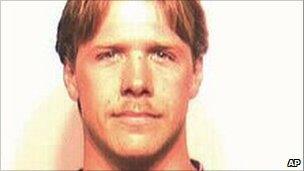 A US man has pleaded guilty in a court in the state of North Carolina to plotting terrorist attacks.
Daniel Patrick Boyd filed a guilty plea at the New Bern court to charges of conspiring to provide support to terrorists and conspiring to murder, kidnap and injure people.
Prosecutors agreed to dismiss several other counts against him.
Boyd is alleged to have led a group of six other men who were part of a home-grown terror cell in rural America.
Prosecutors claimed that Boyd, a 40-year-old building contractor who converted to Islam at a young age, stockpiled weapons at his home in a quiet corner of rural North Carolina.
From there, they said, he fostered a cell of young Muslim men, including his two sons, who trained with firearms and plotted an attack on a US military base.
Several other defendants, including his sons, are due to be tried in September in the case. They have denied the allegations.
Boyd also lived in Afghanistan and Pakistan between 1989 and 1992, and prosecutors said he spent time in terrorist training camps.
He faces up to life in prison when he is sentenced in May, prosecutors said.
Boyd, his two sons and four other men were arrested by US federal agents in July 2009, after an FBI informant gathered extensive undercover recordings in which Boyd was heard declaring: "I love jihad. I love to stand there and fight for the sake of Allah."
He was then indicted on charges of plotting terrorism and conspiring to support terrorism.
At a preliminary court hearing in 2009, the authorities played audio tapes of Boyd talking about his disgust with the US military and the need to defend Muslims from oppression.
And prosecutors presented evidence he had planned to finance and carry out attacks in the Middle East and in the US, including an assault at the isolated and heavily guarded US Marine Corps base at Quantico, Virginia.
'Friendly and personable'
All of his co-defendants, Muslim men in their 20s and 30s, were US citizens except one, who was a legal US resident from Kosovo.
Boyd lived with his family in a two-storey house with a swimming pool in Willow Spring, a town some 20 miles (32km) south of Raleigh, North Carolina.
The Muslim family lived quietly among the mainly Baptist and Presbyterian residents of the town. Boyd was known as a devout Muslim, who would stop at noon to pray.
He ran a grocery store catering to the area's small Muslim population, and he and his sons stood out among their neighbours for their beards and the flowing white robes they wore at times.
Neighbours, who described the family as friendly and personable, scoffed at allegations that Boyd's gun collection constituted a terrorist arsenal, saying many households in rural North Carolina have weapons.