Is California the most miserable US state to live in?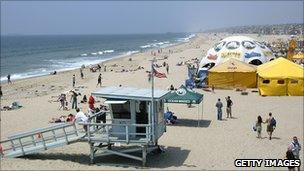 A new survey of the "most miserable cities" in the US suggests that five of the 10 worst are in California. The BBC's Peter Bowes considers whether life in the Golden State has really got that bad.
As I jog along the beach, under wall-to-wall blue sky, with the winter sunshine beating down, I often remind myself that "it doesn't get any better than this".
It has been a glorious week in Los Angeles and much of California. The balmy February weather is proof enough that life in the Golden State can be very good.
For many, the sunshine epitomises the "California dream", although wealth and property ownership usually play a role in the romantic depiction of America's most populous state.
And that's where my argument falls down.
For many people, life should be much better than it is, and a new survey by Forbes magazine concludes that "the Golden State has never looked less golden".
The region is at the epicentre of the foreclosure - or repossession - crisis, unemployment is way above the national average and high taxes are crippling business.
The ranking takes into account a range of factors - including the economy, crime levels, the climate and social factors, such as how the local sports teams are doing.
The city of Stockton, in northern California, ranks first on the list for the second time in three years.
In recent years, the community has been hit hard by the housing crisis, with the average property price dropping by 67% since 2005.
The city suffers from a high crime rate and unemployment is projected to head above 18% this year.
"The economy has been hurt more than other communities for sure," says Stockton city manager Bob Deis.
But he challenges the methodology used to define his city.
"Using data and drawing conclusions about the overall city is misleading and doing everybody a disservice," he says.
The city manager, who recently moved to Stockton from California's idyllic wine country, says the mood of the town is far from downbeat.
"The city has a lot of positives to it and is anything but miserable," he says, pointing to a strong sense of community and a thriving arts scene.
"Picking a place to live is like picking a Chinese restaurant, you'll get 10 different answers," he adds.
"From my perspective we live on the California Delta, which has its own unique beauty. Cruising down the delta on a boat on a warm spring or fall day is fantastic."
Stockton sits on the San Joaquin River on the eastern edge of the delta, which sprawls across much of northern California.
Mr Deis also points to the northern California weather as being the "opposite of making one feel miserable".
"I lived in Oregon and Washington for about 17 years and the lack of sun during the fall and the winter definitely wore on us. Having sun makes a huge impact on your well-being," he says.
California's state capital, Sacramento, ranks as the fifth most miserable place in the US, and it is easy to identify misery in a city where government workers are being laid off in their droves.
As the state battles to bring a $28bn (£17.5bn) deficit under control, many public service employees have had their wages slashed and have been forced to cut their working hours.
Furlough Fridays, when many state workers are required to take the day off, as libraries and other public buildings are closed, have become commonplace.
"I work downtown in an arts supply store," says Joe Gallegos, who has lived in Sacramento all his life.
"On a furlough day, Sacramento's downtown is 75% empty and that really affects many other businesses, which rely on public service workers," he adds.
"Together with the housing market that collapsed a few years ago, it really hurt us."
But Mr Gallegos, who is trying to launch a home business with his wife, producing designer quilts, is another to scoff at the notion that he lives in a miserable city.
"I laughed at it," he says, adding that he and his wife live in a "nice place" and pay low rent.
"We're not consumers in the sense that a lot of people are. We thrift a lot, we garden, we don't eat out, we don't eat a lot of junk food. We've adjusted our cost of living to our lifestyle," he says.
"I'm not a materialistic person and that makes me less miserable."
And, true to form, he also cites the California weather as a reason to stay cheerful.
"Sunshine is constant. We're only a couple of hours from the Bay Area and from the Sierra Nevadas," he says.
"There are a lot of people in Sacramento that surf and snow board, and we have a lot of bike trails. People spend a lot of time outside, so I think that makes people a little bit happier," he adds.
California's woes are far from being over.
Its new governor, Jerry Brown, has only just begun to roll out austerity measures that will produce more hardship for millions of people as he seeks to plug the huge budget deficit.
But even in the state's worst economic black spots, a sense of optimism prevails.
"If they can divorce themselves emotionally and psychologically from their problems, everyone seems pretty happy," Mr Gallegos says.