Chandra Levy: Guandique gets 60 years for 2001 murder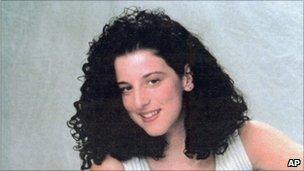 An El Salvadorean immigrant has been sentenced to 60 years in prison for the 2001 murder of US intern Chandra Levy.
Ingmar Guandique was convicted of first-degree murder last November in the killing of Ms Levy, 24.
Her remains were found in 2002 in Rock Creek Park in Washington DC more than a year after she disappeared.
The case claimed the career of politician Gary Condit, once a suspect in the murder case, to whom Ms Levy was romantically linked.
The former Democratic congressman said he and Ms Levy were friends and initially denied an affair, but the scandal helped end his political career after he was defeated in a primary in California.
The disappearance of the US government intern drew national attention and made headlines around the world.
A superior court judge rejected Guandique's request for a new trial on Friday.
Guandique's lawyers argued their client should be granted a new trial because they claimed jurors improperly shared notes when reaching a verdict roughly three months ago.
The El Salvadorean's defence team had previously argue Guandique had been made a scapegoat for the failures of a botched police investigation.
Prosecutors had asked the judge for a life prison sentence, saying Guandique had shown no remorse and had a history of violent crimes.
Police did not arrest Guandique until 2009. The 29-year-old had been serving a 10-year sentence for attacking two female joggers in the park and had reportedly spoken about killing Ms Levy.
The jury in November deliberated for four days before handing Guandique guilty verdicts on two counts of first-degree murder.
Mr Condit told a Washington court at Guandique's trial in November that privacy concerns stopped him from acknowledging an affair with Ms Levy.
"I think we're all entitled to some level of privacy," he said.
Mr Condit also said in 2010 that the last time he had seen the intern was a week before she disappeared, when they had discussed how he could help her make contacts with the FBI and other law enforcement agencies that she sought to work for.
"We never had a fight. We never had any cross words," he said.
Ms Levy had just finished an internship with the US Bureau of Prisons when she disappeared.
Her mother Susan Levy told him during Friday's sentencing hearing: "Mr Guandique, you are lower than a cockroach. You are a hideous creature."