Royal Ontario Museum investigates sudden bee death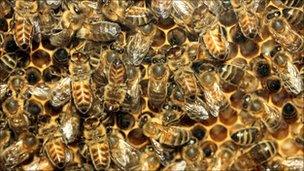 A Toronto museum is investigating the sudden death of thousands of bees in a glass-enclosed beehive exhibit.
Officials at the Royal Ontario Museum said 20,000 bees in a biodiversity exhibit had died within two days last week, though they had appeared healthy.
Scientists have ruled out staff error and starvation, but said poor ventilation, disease or a lack of worker bees could be to blame.
The museum plans to replace the colony in the spring.
"The queen stops laying eggs in early- to mid-October and starts laying again in late February," University of Guelph researcher Janine McGowan told the Toronto Star newspaper.
"If she didn't lay enough winter worker bee eggs to make sure the hive and honey is kept warm during the winter, that could have contributed to the die-off."
Related Internet Links
The BBC is not responsible for the content of external sites.