Quebec crown prosecutors picket for better pay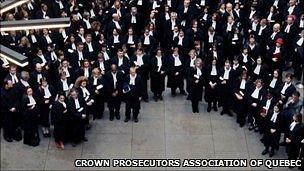 Despite a wind chill factor of -19C and more blowing snow forecast, the spirits of a group of striking Quebec crown prosecutors and government lawyers outside the Palais de Justice courthouse in Gatineau are high, Sian Griffiths reports from Quebec.
Last week, they wrapped up warmly and marched out of their courtrooms and offices to join a 1,500-strong province-wide strike, including 450 crown prosecutors, to demand better working conditions.
Their placards read: "Who benefits from a weakened crown?" And they are determined to drive that message - written in French on a bright red background - home to their government bosses and a bemused public.
"We're going to stay outside as long as we have to stay," says Maitre Valerie Tremblay, a Montreal crown prosecutor who joined picketing colleagues in Gatineau. "Weeks and months."
The lawyers, who say they have been underpaid and overworked for years, went on strike on 8 February after rejecting the Quebec government's offer of a 10-12% pay increase.
They have demanded a 40% pay increase, which they say would bring their pay in line with counterparts in other provinces, and have asked the government to hire more staff to reduce what they describe as a crushing work load.
The government says the strike has begun to hinder its ability to prosecute cases, a charge the prosecutors acknowledge.
During the strike, only essential services - bail hearings and initial court appearances by people in detention - are being offered, and those are run by a skeleton crown prosecution staff.
The strike has exacerbated the province's already clogged case load.
JD Gerols, a spokesman for the Crown Prosecutors Association of Quebec, estimates that 1,200 cases a day are being postponed in the province.
"It is inevitable that there will be an accumulation of cases," said Martine Berube, spokesperson for Quebec's Director of Criminal and Penal Prosecutions.
Quebec prosecutors have complained about deteriorating pay conditions for decades.
Twenty-five years ago, a senior crown prosecutor could expect 80% of a senior judge's salary, according to the Crown Prosecutors Association of Quebec. That is now down to 40%, the organisation says.
Prosecutors also complain about being chronically understaffed: according to the association's research, Quebec has the worst ratio of prosecutors to residents in the country, with one for every 16,526 residents. Neighbouring Ontario has one for every 11,916.
Frustrated lawyers staged illegal walkouts in 1986 and 2002 in an attempt to improve their lot.
The lawyers were granted the right to strike in 2003 when the Quebec government refused to submit to binding arbitration to settle contract negotiations.
After watching a further erosion in salary and work conditions, the lawyers began their first legal strike last week.
Justice Minister Fournier acknowledges Quebec's lawyers lag behind their profession but told the Montreal Gazette: "We can't have 30 years of catching up instantly."
Ahead of the walkout, provincial Premier Jean Charest appeared to strike a note of conciliation.
"We recognize that there are particular and specific issues for Crown attorneys and we want a deal that will be affordable for the taxpayer," he told the Canadian Press.
"We want everyone to stay at the table."
The prosecutors, meanwhile, say many lawyers have left Quebec for better-paying provinces, have joined the private sector or have doubled their salaries by transferring to the federal government.
The top rate for a Quebec crown prosecutor with more than 15 years' experience is about 100,000 Canadian dollars ($101,276; £63,210), about half that of a crown prosecutor in neighbouring Ontario, according to the Crown Prosecutors Association of Quebec.
Quebec crown prosecutors say they are the lowest paid in Canada.
"Everyone is kind of tired of being paid less than everywhere," Ms Tremblay says.
"You travel around Canada, you meet other crown prosecutors who ask 'how come you are working so hard and not being paid?'"
The striking lawyers also want Quebec's Liberal government to hire 200 more prosecutors to help clear the case backlog, which the prosecutors' association says is the country's longest. According to victims' advocacy group Calacs, it can take as long as three years for a sex crime to come to trial.
Those on strike have rejected a government pledge to hire 60 new prosecutors.
Victim support groups are cautiously sympathetic to the strike's aims.
Rosa Pires of Calacs, which assists victims of incest and sexual crimes, says delays in justice caused by the walkout are worrying, but she hopes the action will lead to an improved service for victims.
"If we don't have prosecutors who are better paid and more numerous, then it doesn't get better," she says.