Canada immigration 'reaches 50-year high'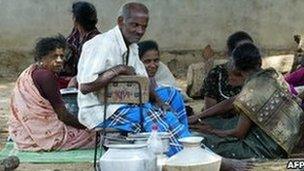 Canada welcomed its highest number of legal immigrants in more than 50 years in 2010, the government has said.
The number is 60% higher than the average annual number of immigrants admitted in the 1990s.
"While other Western countries cut back on immigration during the recession, our government kept legal immigration levels high," said immigration minister Jason Kenney on Sunday.
Canada's immigration policy has historically been viewed as liberal, and the current government has been keen to boost the levels of legal entrants.
"Canada's post-recession economy demands a high level of economic immigration to keep our economy strong," Mr Kenney added.
About two-thirds of those admitted to the country last year were permanent residents, who under this status are granted the same privileges as citizens except for a passport and voting rights.
The majority of these were economic migrants and their dependents, Mr Kenney said.
In addition to permanent residents, 182,322 temporary workers entered Canada in the past year, as well as 96,147 foreign students and 12,098 refugees.
But while welcoming immigrants, the country has also sought to crack down on the number of illegal immigrants reaching its shores.
Last year, a number of ships carrying Tamil migrants from Sri Lanka arrived in the country.
At the time, Prime Minister Stephen Harper described the arrival of hundreds of illegal immigrants on the vessels as "unacceptable", and pledged to "deter this kind of behaviour".