Wikileaks: US judge considers Twitter request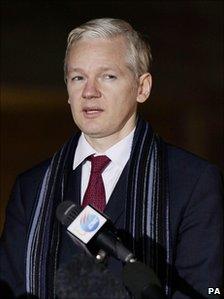 The US has defended its request for the personal details of three Twitter users, as part of its inquiry into Wikileaks.
At a court in Virginia, the justice department said it was seeking the account information of three associates of Wikileaks founder Julian Assange.
The trio are fighting the request, arguing it is an invasion of privacy.
A justice department lawyer told the court the request was a standard investigative measure.
US prosecutors say the request forms part of their ongoing investigation into the Wikileaks site, which released thousands of confidential diplomatic cables online.
The trio appealing against the request - Icelandic MP Birgitta Jonsdottir, Dutch hacker Rop Gonggrijp and US computer programmer Jacob Appelbaum - all know, or have worked with, Wikileaks founder Julian Assange.
Lawyers representing the trio appeared before the US district court in Alexandria, Virginia, on Tuesday to argue against the release of their private information.
"What's at stake here is the ability to use the internet freely and privately, without the government looking over their shoulder," said Aden Fine, of the American Civil Liberties Union.
Mr Fine, who is representing Birgitta Jonsdottir, spoke on behalf of all three plaintiffs in court.
The trio say the demand for this information "intrudes upon important First Amendment rights" and "will not directly further the government's purported interests".
Mr Fine said he had also asked the judge to reveal whether similar orders for information had been issued to other websites, such as Facebook and Google.
On Monday, Mr Assange said the order was "an outrageous attack by the Obama administration on the privacy and free speech rights of Twitter's customers".
The order calling on Twitter to release account details, IP addresses, user names and sign-up information was made by District Judge Theresa Buchanan in December 2010.
The order, only made public earlier this month, also requested details of the general Wikileaks Twitter account, thought to be run by Julian Assange, and that of Bradley Manning, the army intelligence analyst suspected of leaking the documents to Wikileaks.
A justice department spokesman said the terms of the request had since been narrowed to data from 15 November, 2009, to 1 June, 2010, and to four accounts - those belonging to Mr Appelbaum, Mr Gonggrijp and Ms Jonsdottir and the official Wikileaks account.
The US government is allowed to ask for the communication records of service providers up to 180 days in the past.
Appearing at the hearing on Tuesday, Assistant US Attorney John Davis said the government was seeking routine data, no different to phone records or credit card bills.
"This is an investigative measure used in criminal investigations all over the country, every day," Mr Davis said.
A justice department spokesman stressed the government was "not seeking any content" and that this was a routine part of its investigation.
The judge did not rule on the appeal made by the three, and will issue a written ruling at a later date.